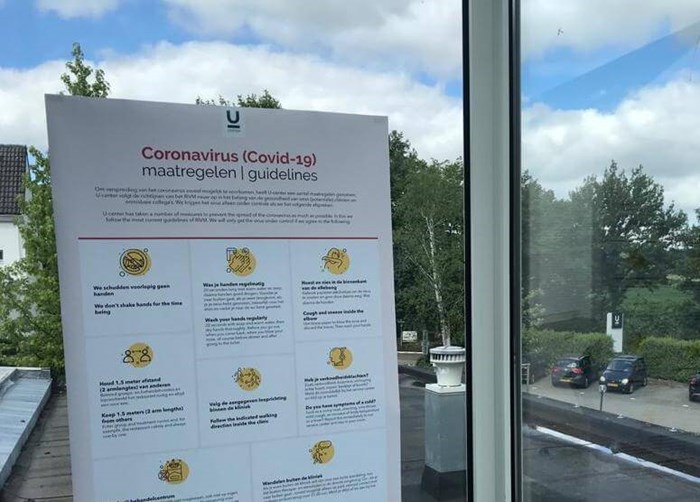 Measures against the spread of the coronavirus
The health of our clients and our employees is very important. U-center has therefore taken a number of measures to prevent the spread of the corona virus as much as possible. U-center thus closely follows the guidelines of the RIVM (Dutch Institute for Public Health and the Environment). On a weekly basis, management decides whether measures need to be adjusted.
Sign Up
The registration procedure from our communication center and any subsequent consultations for admission simply take place. This is done through telephone calls and video chat if possible. If you are admitted for treatment at U-center, we will set an admission date together. Upon arrival at the treatment center, a medical check will be carried out immediately by a doctor from U-center.
Treatments in the clinic
During your treatment in our clinic you will receive the program as stated on this website. We occasionally offer sessions digitally and of course stick to the 1.5 meters distance. We also have an adjusted visiting protocol. U-center maintains the most careful hygiene measures.
All clients, employees and visitors must wear a mouth mask in our treatment center. The mouth mask does not need to be worn during individual- and group sessions. The cap can also be removed at the table in the restaurant.
If there is (a suspicion of) corona infection within the clinic, U-center acts immediately according to the guidelines of the RIVM. U-center has protective equipment available for this purpose and protocols have been drawn up that are known to all employees involved.
Questions? Do not hesitate to contact us.
Would you like more information about U-center? You can call us on Monday to Friday between 9 a.m. and 8 p.m. via our tel. nr. 0031-343556400. Of course you can also email us or submit a callback request. Click here.